Faye one of our  senior therapists is testing out the the Obagi Nu-Derm  Skin Care System, read about her journey to younger looking skin.
"Nu- Derm is the #1 physician-dispensed skin care system, clinically proven to help reduce the signs of skin aging. It is specially formulated for all skin types to restore beautiful, healthy-looking skin". That's what the brochure says and who wouldn't want that kind of result, but what does the actual treatment feel like to the patient. This is my journey through the first 6 weeks of the Obagi Nu-Derm programme; the "delete" stage.
For those of you unfamiliar with Obagi Nu-Derm, the system is an 18 week programme to take your skin back to its youngest possible form, it will treat skins with age spots, fine lines and wrinkles, rough, sagging or red skin, uneven or dull skin and discolouration. Using a medically prescribed personal protocols, each patient uses a collection of Nu-Derm products to address the skin care concerns they would like to treat.
Week 1
My skincare issue is an area of pigmentation around my mouth and the beginning of sun damage around my eyes, the fact that in the course of removing these areas of concern, I will also be transforming my skin to a healthier, younger looking state is an absolute boon!
I have been on the training for this system twice and become an Obagi Ambassador, so I am pretty well placed to know that this is an intense skin care system. I know to make patients aware that they will see some redness and peeling in the first 6 weeks of the programme, to assure them that this is all perfectly normal, but you can never totally reassure someone of this until you have walked in their shoes, so here we go……
Day 1 sees me shun all my beloved skincare products and set out my new Obagi product range. There are quite a few products here to use, but everything is labelled with a number for order of use and AM & PM so I know what to use and when. They have also given me lots of information on the products and I can also sign up to a website to get further details on the whole system.
After full use of my AM and PM routine on this day my skin feels a little tingly, but otherwise fine.
By the afternoon of day 3 I have started to get some slight peeling around my mouth and the area looks a slightly pink, much like you expect to see if you have burnt yourself in the sun. When I apply my PM routine in the evening it stings a little, but I am focused on my goal and I know this is normal.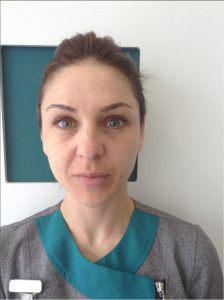 Day 3
WOW by day 6 the shedding is so pronounced that I have to ask for a dust pan and brush when I go round to my brothers for tea to clear up all the skin that has peeled whilst I talked and ate. YUK, they all think I am mad but I am as happy as a snake shedding it's old skin to reveal a brand new one. This analogy only serves to them as a full acceptance of my madness.
Day 7 sees me go into Manchester with my husband for shopping and drinks, at the exact time that my shedding hits it's peak. After several shops and a few cocktails, he asks me to go into the toilet and wipe my face, the shedding had become too much for him to bear, and to be honest when I saw it, I had to agree with him that it was time to go home.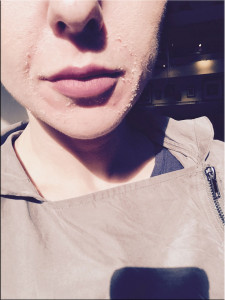 Day 7
The first week has seen me have quite an intense peel and at times certain times in the day my skin does feel quite tight, it has become pinker and pinker as the week has gone on and some of the products sting a little on application. I have however already noticed a radiance to the skin on my forehead and when I stretch the skin where my pigment is strongest it does now break up, where it did not before, an indication that it is beginning to breakdown. I will chalk week one up as a success, 5 more weeks to go……