Greater Manchester Leading Aesthetics Clinic
Laser Hair Removal - Tattoo Removal - Tattoo Fading - Anti-wrinkle Injections - Dermal Fillers -
Non-surgical Treatments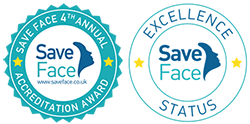 Save Face Accredited Aesthetic Clinic
The aesthetic services we offer at The FAB Clinic include -
Q plus laser - only laser in the world to combine 3 lasers in one - removes all colours of ink.
Reduce fine lines and wrinkles with our most popular treatment - Anti-wrinkle Injections.
Permanent laser hair reduction on virtually all body areas, suitable for both men and women.
Targets and fades freckles, sun spots and age spots. Also reduces spider vessels and redness from rosacea.
Improve your skin colour, texture and wrinkles, age spots and sun damaged skin, without the need for surgery.
Reverse the signs of ageing and gain a more youthful appearance. Our elos laser stimulates collagen production and improves skin quality, wrinkles and facial contours.
Smooths out the lines of time, works well on mild to moderate wrinkles, red and brown spots, and textural irregularities.
Book your FREE initial consultation now by calling 0161 627 1114.
partner to the award winning face and body shop