Q.After my pregnancy 3 years ago I have been left with as dark brown mark around my mouth that won't go away. It gets darker in the sun and when I'm on holiday it even gets darker through total sun block. I am finding it harder and harder to cover with make-up and it is really affecting my confidence, what can I do?
A.From the description you have given it sounds very much like a condition called melasma or chloasma. Melasma is a common skin condition which is characterised by areas of light to dark brown pigmentation develops, mainly on the face. Melasma usually becomes more noticeable in summer due to the sun's stimulation of melanin in the skin, and as you mentioned pregnancy can be a contributing factor to its onset, along with triggers such as stress and hormonal drugs such as the contraceptive pill.
In the clinic we have a number of ways we can treat hyperpigmentation including laser skin rejuvenation, skin peels and homecare products. In the case of melasma and the fact that it is a systemic condition we cannot treat it with laser skin rejuvenation as this could cause it to become darker. Skin peels and homecare products are still viable treatment options and I would suggest a treatment programme which included a combination therapy plan of both peels and the Obagi Nu-Derm system would be an excellent treatment option for yourself.
The Obagi Blue Peel Radiance treatment is a medium depth skin peel treatment designed for incremental desquamation of the stratum corneum, this will then reveal the new skin, allow the absorption of the Nu-Derm products to penetrate the skin more readily and thus boost the effects of the Nu-Derm programme.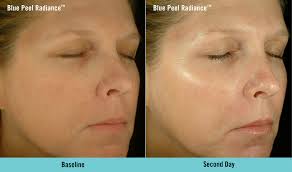 The Obagi Nu-Derm system was designed by Dr Zein Obagi to treat a wide range of skin care concerns using prescription based hydroquinone and tretinoine. This system promises to deliver your youngest possible skin after just 18 weeks. The system has enjoyed years of success and has proven clinical results in treatment of melasma and other pigment problems.
The 18 weeks system works on three skin cycles, and it works extremely well when combined with a course of three peels every 6 weeks to boost the effect of each Obagi skincare cycle. At the end of the 18 week system you would see a dramatic different on the treatment area, the whole face will be brighter, firmer, lifted, pores will be more refined and skin tone more even.
There is no need for you to continue to suffer with this problem, please call in to talk to our clinical staff who would be happy to assess the area, discuss your treatment options and provide you with any information you need. It will be our pleasure to help you moving forward with your problem.
Consultations on a range of skincare and aesthetic treatments are available in salon six days a week. Please feel free to call in and discuss your concerns, and mention this article for a free sample bag.
Read my 18 week journey to younger looking skin