Monday 4th January shall be forever emblazoned in the minds of the aestheticians who were lucky enough to undertake the Lynton Laser Pro Max Lipo training, as the day we found the next best thing in the world of non-invasive cosmetic treatments.
Rarely has the arrival of a new treatment platform caused a fever pitch such as the one felt in the training room that day. If you can picture the scene in Only Fools and Horses which sees Del in a wine bar encouraging Trigger to "play it cool", before he takes a sip of his cocktail and leans on to the bar only to fall straight on the floor, then you can imagine the level of fervour in the room, as we tried to "play it cool" in front of our trainer Rhiannon.
In order for you to fully appreciate what had reduced us from fairly level headed professionals into a cluster of over enthusiastic fools, allow me to introduce the Pro Max Lipo!
The word lipo had already peaked our interest when we had seen the title of the training course, and when we turned the first page of the training manual and saw the three main headings "inch loss, cellulite reduction and skin tightening", it was clear that our enthusiasm had not been heightened under false pretenses, this truly was the holy grail. With the cogs in our heads already turning about which area of our bodies we would treat first, the course began and we educated in the science and technology behind the Pro Max Lipo.
The machine uses 3 clinically proven technologies via a multi-platform device that has been uniquely designed to offer the 3 most popular body treatments as well as face, neck and eye treatments.
Ultrasound Cavitation is used for inch loss and fat reduction. Sound waves are used to affect the permeability of fat cells, allowing fat to escape and be metabolised by the body. This works especially well on stubborn areas of fat that are typically resistant to exercise, such as abdomen and outer thighs.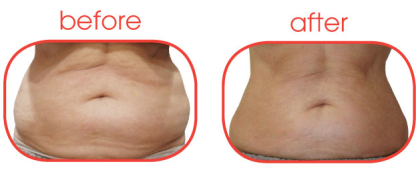 Multi Polar Radio Frequency energy is used for cellulite and skin tightening. Safely and effectively heating the skin to a temperature which increases local blood circulation and accelerates the production of collagen and leads to contraction of collagen fibres resulting in skin tightening and restructuring.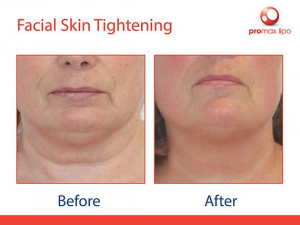 Vacuum massage then encourages drainage of fatty deposits into the lymphatic system, promotes the breakdown of fibrous tissues and leads to reduction in the volume in fat cells.
What's not to like?
Considering the innovation and technology involved in this machine you'd be forgiven for thinking that there would be a compromise between achieving dramatic results and the comfort of the treatment process, with the Pro Max Lipo no such compromise is made. You can expect to achieve measured results in minimum sessions, but to also expect those sessions to be comfortable and relaxing.
We have started our own treatment plans and will update you with the progress of our treatment journeys over the next few weeks. If like us you have been hooked, then please feel free to call us on 0161 627 1114 the clinic to book a full consultation, and as an extra incentive for January and February 2016, we'd like to offer all Pro Max Lipo treatments with a massive 50% off.