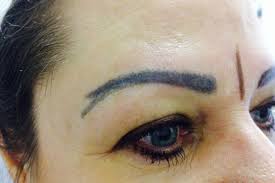 Everyone wants to save money, but is it worth it when the result is poor work where eyebrows have been tattooed on badly through cheap Groupon or Wowcher deals? When eyebrows are done cheaply they can be done badly, may not match, be the wrong shade – or even in the wrong place!
At the FAB Clinic we've had clients come to us in tears asking for help in 'fixing' cheaply done eyebrows or other semi-permanent make-up. Sometimes the only way we can help is through laser removal, which can hurt and take a number of treatments. It's difficult to fix badly done eyebrows through more tattooing as we are simply adding more ink to the bad ink there already.
If a clinic is using professional staff who have been trained and are having on-going training, are registered, and are using the best equipment (like here at the FAB Clinic), then they can't afford to offer Groupon or Wowcher deals! If you're offered a cheap price there will be a reduced service or product.
Have a treatment that makes you smile not cry, even if it costs a litle bit more!!