We are delighted to announce that we are now official stockists of Youngblood Mineral Cosmetics.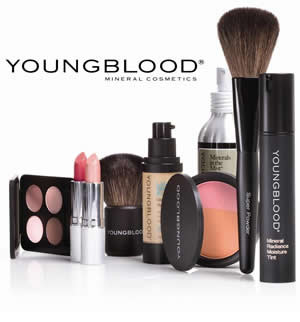 Don't be fooled by the name into thinking that this range is only designed to be used by young people, the brand took its name from the founder and president Pauline Youngblood. Pauline draws inspiration from nature as well as her own practical experience as a paramedical aesthetician to dermatologists and plastic surgeons.
Youngblood Mineral Cosmetics are 100% pure mineral products, from the foundations to the lipsticks each product contains only 100% mineral. Unlike many other brands claiming to be mineral, but actually only containing around 15% mineral base and then use talc bulking agents to thicken the product. As well as being 100% mineral Youngblood cosmetics are also free from talc's, parabens, harsh oils, zinc oxide, artificial fragrances and artificial dyes, they are 100% vegan formulas, non-comedogenic and non-acnegenic, gluten free, cruelty free and environmentally friendly.
In short this means that ANY skin type can use this make up without fear of irritation, or compromise.
This make up range is for everyone! There is a shade, tone, texture and level of coverage for everyone and the versatility of the products will astound even the most avid make up fan. Pure minerals are finely milled for weightless, adjustable coverage that provides a soft, luxurious feel and finish.
Primarily designed for barrier impaired skins after invasive treatments, Youngblood can be applied directly after peels and any other cosmetic procedure, as well as after waxing and facials to give the skin a healthy radiance to make you feel as good on the outside as you do on the inside after treatment. For those who don't like to go to the gym without a little help from make-up, Youngblood can be worn during a workout session allowing the skin to breath, without causing breakouts and will stay put through the most rigorous training exercise, and for those like me who may every now and again over indulge on the old fermented grape juice and fall into bed without removing make up. You can do so now without fear for your skin in the morning and better still the staying power of Youngbood means it won't have transferred from your face to your bedding over-night, and you will wake up looking as good as you did when you went out!
Again don't be fooled into thinking that mineral means light coverage. The mineral lose powder foundation can be used to achieve a full coverage without clogging the pores and making the skin look overly made up. The range caters for those who like a sheer tint for a healthy glow to those wishing to camouflage tattoo and other imperfections.
Available exclusively to clinics this range is highly praised by make-up artists around the world and has been used in high profile shows such as the X Factor and on the models of many famous designers at their runway shows.
We are so confident that you will love these products that we are offering free mini makeovers until the end of June 2016 to showcase the products and let you feel the luxury for yourself, whilst letting our make-up artists create you a fabulous new look.
To make an appointment or for any further information please call our reception team on 0161 627 1114