Skin Peels Stockport
Chemical skin peels at our clinic within a short travelling distance of Stockport, are one of the most popular non-invasive cosmetic procedures performed to rejuvenate the appearance of the skin.
Skin peels can be used to treat a range of skin concerns including ageing skin, acne, reduce sun damage and hyper pigmentation. As a regular treatment, it can also help the skin to appear smoother, brighter and plumper.
How do I choose which peel I need?
At FAB Clinic we offer skin peels of varying penetration levels prescriptive to your needs as discussed at your initial consultation.
Peels are generally categorized according to their depth of penetration in the skin, allowing them to correct different types of skin concerns. The deeper the peel the more dramatic the results, but also the longer the downtime and healing process
Superficial peels
We offer superficial level 1 peels by both Medik8 and Elizabeth Arden Pro. Superficial peels work in the skin to the epidermis level, with mild peeling and minimum down time post treatment. SPF 30 plus must be worn post treatment to protect the skin from damage.
Medium peels
Our medium peel is the Obagi 'Blue Peel Radiance'. Medium peels work in the skin to the papillary dermis, with both moderate peeling and downtime post treatment.
Deep peels
Deep peels penetrate the skin to the reticular dermis. Patients can expect considerable peeling and a longer downtime post treatment.
What are the benefits of skin peeling?
Skin peeling is an accelerated form of exfoliation to reveal a brighter more even complexion, with more refined tone and texture.
Skin peels are perfect in the treatment of acne, acne scars, hyper-pigmentation, skin damage, issues of tone and texture and skin aging.
The action of increased exfoliation promotes new cell growth and allows the skin to better absorb homecare products.
How do peels work?
The acid content within the peels work by bringing the pH of the skin to an optimum acidity level. This action chemically loosens the 'glue' that binds the dead and damaged cells resulting in an accelerated exfoliation process revealing a bright healthy and radiant complexion.
As part of the healing process, increased cell growth produces new, healthier skin layers beneath, which give a more youthful, rejuvenated appearance.
Where we are
We are approximately a 30 minute drive from Stockport. Our clinic offers free parking, for our location and opening times please visit our Contact page.
Book your FREE initial consultation now by calling 0161 627 1114.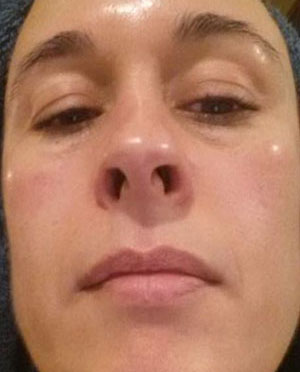 Results after 1 Elizabeth Arden Pro Multifunctioal Skin Peel
No visibles pores! No wrinkles! Amazing!